Ignore this page, it is information gathered for research purposes relating to a nvel I'm working on. I have posted the texts here for ease of access while I'm travelling and as such will be removed in a short time. It should not really be in the public domain anywhere other than the original publishers websites, so I'm taking a liberty posting it, but this page is not promoted anywhere and only gets a handful of hits per month.
Changing DNA
Viruses and DNA
Can Your DNA Change During Your Life?
Viruses and Other Gene Transfer Mechanisms
When can a virus modify DNA in every cell of a living organism?
Can viruses change DNA? If so, How?
Confirmed by science: You really can change your DNA – and here's how
How do viruses affect the structure of your DNA?
Scientists Without Foresight Are Using Viruses To Alter Human DNA
New Technology Lets Scientists Easily Rewrite Living Organisms' Genetic Code
Part 2 – Media Manipulation Of Attitudes And Opinion
The Art And Science Of Mass Manipulation
Censorship and the Decline of Civilization
Media Manipulation of the Masses: How the Media Psychologically Manipulates
10 Strategies for Manipulation of People Through Media
Mind Control Theories and Techniques used by Mass Media
Part 3 – The Newsroom
Newsroom terms
Television
Extra! Extra! Stories of Journalism Jargon
Part 4 – Ageing
Telomere Theory Of Ageing Rejected
AGINGSCIENCES™ – Anti-Aging Firewalls™
---
The Newsroom
Newsroom terms
Glossary of Broadcasting/Broadcast News Terms
General
Affiliate – A local station that subscribes to the services and programs of a network.
Anchor – The newscaster who hosts the studio portion of the newscast. The anchor is the dominant voice in the presentation of the news to the audience. S/he must be proficient in writing, producing, and editing the news.
AP Wire – Associated Press news service that supplies international, national and regional information and stories. These are almost always rewritten before airing.
Back timing – A convenient way of counting down the length of a newscast. This tells you when each story must run in order for your newscast to end on time.
Beats – specific public institutions or areas of concern for which specific reporters in a newsroom are responsible watching. (e.g.: county reporter, health reporter, education reporter, courts reporter)
Beat Checks – Using a telephone to search for and tape news stories from a list of agencies. A good beat check would be comprised of the sheriff's offices, fire department, local police, state highway patrol, DNR, local hospitals, and other government agencies that routinely handle breaking stories.
Break – place designated within broadcast programming during which commercials run.
Bumpers – small teases (with or without audio/video) that come at the end of one newscast segment often previewing what is coming up in the rest of the newscast.
Call Letters – A station's legal ID (for example, WBIZ-EAU CLAIRE) is a legal ID, Z-104 is not a legal ID).
Cold Copy – aka; Rip-n-Read – A script not seen by an announcer until the moment s/he reads it.
Consultants ­– firms, groups, individuals hired by broadcast organizations to give advice on presentation, content, trends, viewer habits and preferences
Control Room – Where the technical equipment for putting a newscast on the air is kept and operated.
Cue – usually a physical signal by engineer or other technical person indicting to anchor to perform a task (start reading, wrap up, go to break).
Cue Up – Putting a sound bite, package, wrap, voicer, or other recorded material at its beginning.
Dub – to make a recording of a recording.
Edit – To condense or revise material. For example:
n physical – to cut tape with a razor.
— electronic – putting segments of a story together in a sequential manner
n content – to demand a re-focus or rewrite of a story.
n Non-linear – edit done on computer where segments can be put together out of sequence.
Engineer – Technical personnel who can both operate, maintain and repair equipment.
Feed – A live or recorded report, or a set of recorded reports sent to a station/newsroom via satellite, phone, or other device for inclusion in a news program.
Feedback – An ear-splitting squeal or howl caused when sound from a loudspeaker is picked up by a microphone and reamplified. Feedback can also happen when the output for a given tape deck or other device is fed back into its own input.
"Happy Talk" – the casual banter that goes on between news anchors and other "on-air" people. Mostly considered light hearted.
Headlines – A kind of "tease" read at the beginning of a newscast.
Kicker – An offbeat or humorous story that typically is used to mark the end of the news segment and the beginning of the sports/weather segment. The kicker can also be used to end a newscast.
News feeds – feeds of stories/actualities sent to affiliates by networks for air on the individual stations.
Lead – first line/paragraph of body of story that summarizes/indicates most important information.
Lead-in – broadcast term for beginning part of story news anchor reads introducing the story and/or person reporting story.
Lead story (aka Lead) – first story in a newscast or segment (in broadcasting) or a story that is above the fold in print-this considered the most important news story of the day.
Outcue – usually the last thing a reporter says in either a live or recorded news story (i.e. PKG) indicating the piece is ending. (Example: "FOR UPDATE NEWS, I'M BILL SMITH.")
Outro – usually the "Goodbye" or end segment of a newscast often during which news/wx/sports anchors engage in "happy talk."
Producer/Editor – Plans and supervises newscast. Can also work with reporters in the field planning and gathering information for stories.
Pronouncer – Phonetic spelling of a difficult word or name (i.e. Greg Louganis = Greg loo-GAY-nuss).
P-S-A – aka Public Service Announcement – An advertisement for a not- for-profit organization such as the American Heart Association, Partnership for a Drug-Free America, etc..).
Reader – A story read by anchor without any audio/video.
Ratings – measuring units used to tell broadcasters how many households and/or viewers have their stations/programs on at a particular time. This information is used in determining how much station will charge advertising for commercial time.
Rundown -aka; Lineup – A chronological outline or order of stories or segments to be used in a newscast. This is the producer's blueprint for the newscast.
Running Time – Refers either to the estimated time or the actual time of a newscast. Producers/editors should always estimate the running time of the newscast based on the actual time of each recorded report and her or his best guess as to the time of each intro and each story to be read by the anchor.
Satellite feed – can be either news or programming feed that is generated from a distant remote location and transmitted via a satellite. Very often live interviews with news makers or other news people are conducted this way.
Sound Bed – aka: natural sound (natsot) A type of background audio that complements the news report. For instance, the sound of protesters is played underneath the reporter's in-studio story concerning the opening of a nuclear plant.
Spots (aka Commercials) – individual commercials that run during breaks.
Spot News – An unexpected event that can be covered in various ways
Story Tag – Closing to a story package, live shot, or on-set piece usually read by the story report but can also be read by an anchor.
Upcut – Turning on the microphone after the anchor has begun speaking or before and anchor/reporter has stopped speaking.
Television
B-Roll – video that is shot for a TV news story and used to visualize the script the reporter/anchor has written.
EZ News – the newsroom computer software. It allows you to create news rundowns, write stories for newscasts, print scripts, have teleprompter all from the same location/server.
Natural Sound – aka Nat Sound, Nat S-O-T, or Ambient Sound – Background voices, music, machinery, waterfalls, and other environmental sounds that are recorded on-scene and used to create a sound bed for a recorded or live report. Primarily used for setting a mood or providing atmosphere for a report. This technique is frequently overused, but when used properly it adds immeasurably to a story.
Nielsen – service primarily used in determining television ratings.
Live shot/Live Report – A TV news story during which a news anchor or reporter is live at a remote location. Within this report can be included a SOT, VO/SOT or PKG.
On-Set Appearance – Reporter appears on set and is introduced by a news anchor. The reporter can than introduce his/her news package or report his/her story from there.
Package (PKG) – A report from a correspondent that contains a sound bite inserted between the introduction and the epilogue (usually inserted after the reporter's second or third sentence). These need an in-studio lead for the anchor.
Sound bite (SOT) – edited slice of a newsmaker speaking. Similar to actuality in radio except the person can be seen. Often several SOT can be spliced together with the edits cover with video. These can be included in PKGs and VO/SOTs or can stand alone.
Stand-up – part of package with reporter on screen reading/presenting information.
Voiceover (VO) – A TV news story during which a news anchor or reporter reads a script live as video is played.
Voiceover-to-sound(VO/SOT) – A TV news story during which a news anchor or reporter reads a script live as video is played up to a place when a news maker video/audio sound bite is played. At the end of the SOT, the reporter or anchor resumes reading with or without additional video.
Radio
Actuality – aka Sound Bite, Sound-on-tape (SOT), Cut – edited slice of a newsmaker speaking. When used effectively, the use of an actuality adds to the effectiveness of a report. It also distinguishes a wrap from a voicer.
Arbitron – service primarily used in determining radio ratings.
R-O-S-R – aka Radio On Scene Report – Usually broadcast from the scene as an event happens, or at least recorded at the scene of an event for later broadcast. An example would be coverage of a demonstration at City Hall where people are loudly protesting. The outcue for this is always "At (i.e. City Hall) , I'M LENA SMITH FOR THE NEWS AT FIVE-FIFTY," in that order.
Voicer – A recorded in-studio report that contains no sound bites. A good example is coverage of an on going trial during which you were unable to get audio of the trial or an actuality but can provide details of the days events. These need an in-studio lead for the anchor.
Wrap – aka Wraparound (or in television lingo, a Package) – A report from a correspondent that contains an actuality(s) inserted between the introduction and the epilogue (usually inserted after the reporter's second or third sentence). These need an in-studio lead for the anchor.
Wrap/live – basically the same as the wrap in that the information is collected and written the same. However, if the reporter is also working as an anchor that week in the lab, only the sound-bites are recorded and replayed during the newscast while the anchor/reporter reads his/her script live.
---
Extra! Extra! Stories of Journalism Jargon
Slug
In journalism, a slug is a short phrase summarizing the subject of an article, used to identify the story as it moves through the editorial process. This definition can be traced to the printing process; in typesetting terminology, slug refers to a metal bar used as a line divider or as a full line of type as with a Linotype machine. The use of slug to refer to a piece of metal goes back to the mid-1600s, when it was used to refer to a crude bullet, likely named for its resemblance to–you guessed it–the humble shell-less land snail.
Deadline
A slew of looming deadlines can have the best of scribes shaking in his or her boots, but the current sense of this word, "a time by which something must be finished," is comforting compared to how it was formerly used. Deadline was once used to refer to a boundary around a military prison beyond which a prisoner could not venture without risk of being shot by the guards. The meaning of deadline as we now know it emerged 60 years later in American newsrooms and is thought to have been influenced by the aforementioned Civil War-era sense.
Yellow journalism
Yellow journalism is a type of reporting characterized by sensationalism, but what does it have to do with the color itself? The story goes back to the era of fierce competition between newspaper magnates Joseph Pulitzer and William Randolph Hearst, marked by an "any means necessary" approach to boosting circulation. In 1896 Hearst lured Pulitzer's cartoonist, Richard Outcault, to his paper to draw his already popular comic strip. The strip featured a boy in an oversized yellow shirt known as The Yellow Kid, and was one of the first to be printed in color.
Boilerplate
In the newsroom, boilerplate refers to syndicated or ready-to-print copy that can be used repeatedly without alteration. Prior to this sense of the word, boilerplate primarily referred to a large sheet of steel or iron used in making steam boilers. The connection between the two–drawing on the theme of reusability–can be traced back to the 1890s when news agencies, such as the Western Newspaper Union, began sending publicity and advertising materials on printer-ready metal plates to smaller newspapers to be distributed in the papers as fillers.
Tabloid
Though most of us use of the word tabloid to refer to those over-the-top paparazzi-driven weekly publications peddling celebrity gossip in the checkout aisle, the word was trademarked in 1884 with a capital T as a name for a type of tablet, a compressed piece of a medicinal or chemical substance. The leap from this scientific meaning to the current one wasn't far: the pages of tabloid newspapers are about half the size of a standard newspaper page with short, condensed articles, drawing on the motif of compactness.
Squib
In journalism, a squib is a short news story, often used as a filler. Out of the newsroom, squib refers to both a witty, satirical saying and a small firework that burns with a hissing noise. Which of these non-journalism senses came first is unclear, but if the firework definition was the original, the word might be an instance of everyone's favorite poetic device: onomatopoeia.
Widow
This term is widely used in printing to refer to a specific formatting problem: a word or line of text that is carried over to the top of the following page or column, left dangling and separate from the rest of the paragraph. Similarly, orphan is used to refer to the first line of a paragraph when it appears alone at the bottom of a page.
Bulldog edition
An Americanism meaning "the earliest daily edition of a newspaper," bulldog edition is commonly associated with William Randolph Hearst and the newspaper wars of the 1890s, which had publishers competing aggressively to increase circulation. In 1905, Hearst allegedly told his editors to write headlines that would "bite the public like a bulldog."
---
Part 4 – Ageing
Telomere Theory Of Ageing Rejected

https://hplus.club/blog/telomere-theory-of-aging-pretty-much-rejected-or-dominant/
Watched an interview where Ray Kurzweil talked with Aubrey de Grey. For me, the most interesting part was where de Grey discussed the telomere theory of aging. In his view, the theory has been "pretty much rejected." On the other hand, Michael Fossel, another prominent scientists who focuses on the science of aging, believes, "The telomere theory of aging has become the dominant one." What's going on here?
I already knew that Aubrey de Grey was not a friend of the telomere theory of aging. In his latest book, Advancing Conversations: Aubrey De Grey—Advocate For An Indefinite Human Lifespan, the theory is not even mentioned and the word "telomere" appears only once and in a negative context, where "the removal of telomere-lengthening machinery" is cited as one of the remedies to remove age-related damage. It appears that de Grey believes telomere lengthening is a major problem, whereas Fossel thinks it is the solution. (Of course, both scientists agree that active telomerase (the enzyme that stabilizes telomere length) is linked to cancer.)
I am certainly not in the position to decide which of these experts is right. It is, of course, quite common for scientists to have different views in relatively new fields of science. However, I find it interesting that those two leading figures of the gerontology scene don't even agree on where the rest of the community stands.
In the video with Kurzweil (highly recommended for every transhumanist), de Grey has to say this about telomere shortening (at about 10:20):
A lot of people think that telomere shortening is a really important part of aging, but that's actually pretty much rejected by the gerontology field now, and I think that the rejection is correct. I think, in fact, that telomere shortening only plays a minor role if any in aging and only very few specific tissues. The immune system may be one example.
Admittedly, in the beginning he said, "A lot of people think that telomere shortening is a really important part of aging." However, it seems the people he refers to here are not gerontologists.
Michael Fossel, on the other hand, says this in in his recent book, The Telomerase Revolution (page 19):
However, as I write these words in early 2015, the telomere theory of aging has become the dominant one, although it is far from fully accepted by all scientists. I'd estimate that roughly half of the experts in the field accept it. Most promisingly, younger scientists are far more likely to consider the theory uncontroversial.
I think interview with Aubrey de Grey was first published in September 2015. So what's going on here? What do the majority of gerontologists really think about the telomere theory aging?
In two other books I recently read (The Abolition of Aging by David Wood and Cracking the Aging Code by Josh Mitteldorf and Dorion Segan), I got the impression that the telomere theory is getting more and more supporters lately.
However, I am also far from being able to determine whether de Grey or Fossel would win an opinion poll in the gerontology community in 2017. One thing is clear, though. The fact that two prominent scientists can publicly make such contradicting claims about the beliefs of their colleagues shows that the entire field is moving forward at an increasing speed, so that no one even knows what the majority of experts think of a prominent theory in their field.
What do you think? Pretty much rejected or dominant?
COMMENTS:
I am currently reading Molecular biology of the cell (recommended), a standard text book for college students. The 6th edition was released at the end of 2014 shortly before Kurzweil interviewed de Grey. This is what the authors had to say about the telomere theory of aging:
When telomerase is provided to the fibroblasts by inserting an active telomerase gene, telomere length is maintained and many of the cells now continue to proliferate indefinitely. It has been proposed that this type of control on cell proliferation may contribute to the aging of animals like ourselves. These ideas have been tested by producing transgenic mice that lack telomerase entirely.
The authors usually use the phrase "has been proposed" if a theory is controversial. However, nowhere do they say that the theory is "pretty much rejected." It is very unlikely that a theory where the majority of scientists believe that it is wrong makes it into a standard text book. Needless to say that they also discuss the damage theory of aging.
All the books and articles I read about aging since I wrote the blog post (and I read many) confirmed Fossel's claim, that is, that more and more young scientists adopt the theory.
I just saw a new and a really great BBC documentary about the science of aging which was aired a couple of weeks ago. I think it is fair to say that the telomere theory dominated this report. None of the scientists claimed that the theory is wrong although it became clear that telomerase probably is not the "silver bullet" that Fossel wants it to be.
Things are probably a bit more complex. However, I think it is now undisputed that telomere shortening significantly contributes to aging. Research in the years to come will show how much and how it exactly it works. I find studies about the telomere position effect most interesting
I can only tell you what Fossel and other supporters of the telomere theory of aging probably would respond. The thing is that young cells are very capable of repairing damage and getting rid of debris. However, when cells get older they more and more lose this capability. Thus, damage is an effect of aging and not the cause. If you really want to cure aging, you have to control what causes aging. If you reverse aging, the cells regain their damage repair capabilities and probably will remove all the residues of past aging.
I am afraid that it might turn out that Aubrey de Grey will have a similar role as Marvin Minsky had in AI research. Minsky's critique of neural networks, prevented serious advances in AI research for decades. It is now clear that symbolic AI was the absolutely wrong approach and didn't produce any noteworthy results. Symbolic AI failed because researches totally underestimated the complexity of intelligence. Researches tried to master the effects of intelligence (intelligent behavior) instead of trying to figure out what "causes" intelligence in the brain.
The damage repair approach of SENS might fail for the same reason. They underestimate the complexity of damage causing processes and the damage repair pathways in the cell. Instead of getting to the root of the problem they try to deal with the effects.
In AI, only after the paradigm shift do we see serious progress. AI research is now all about neural networks. Imagine where AI would be now if all those AI researches didn't waste so much time and money with symbolic AI. This can happen if influential scientists support the wrong theories and research money goes into the wrong direction. The good thing is that the paradigm shift in aging research is now on the way.
But then I am only a layman who is shocked by the complexity of cell biology. I only extensively studied the philosophy and the history of science in college. All I can say is from that perspective is that we are now seeing the typical signs of a paradigm shift which happens all the time in science. By the way, I also predicted the paradigm shift in AI in my master thesis more than 25 years ago. I just hope it won't take so long this time
---
AGINGSCIENCES™ – Anti-Aging Firewalls™
Nuclear Aging: The View from the Telomere end of the Chromosome Part 1 – context, history, and about telomere lengths
Posted on 3. February 2014 by James Watson
By James P Watson with Preface and editorial assistance by Vince Giuliano
Preface by Vince Giuliano
According to the latest theories of cosmology, the universe has no center. However, anyplace in the universe, including where we are on Earth, can be a center from which systematic exploration can be launched to determine the nature of the universe. And different physical phenomena might be revealed departing on where you are looking out from. Similarly, according to the GUT concept of biology we are developing, biology has no center. There is no unique point of departure or view that can hope to explain the incredible complexity of biology or aging. And also similarly, different biological insights can be revealed depending on where you start to look out from. There are very many such places to look out from, anchor points of intellectual departure that can provide valuable insights: cell components like mitochondria, the nucleus, the nucleolus, chromatin in general, histones, lysosomes, cell membranes, hormones, key kinases, gene activating factors and cofactors, exosomes, microtubules, membrane transport proteins, etc. Also it is possible to look out from biological processes as centers, processes such as gene transcription, post-transcriptional modifications, inter and intra cell signaling, endocytosis, ribosylation, phosphorylation, methylation, acetylation, circadian rhythms, inter-species signaling and hormesis – just to name some of very many. It is possible to start with a class of substances such as sirtuins, hormones, acetylating or methylating substances, and expand out from there to examine what they say about biology and aging. You can even start with a single molecule such as NAD+ and even a very simple one like carbon monoxide. Or you can start with a substance like bitter melon that contains multiple plant polyphenols and other chemicals, each with complex biological actions. So, a corollary to the fact that biology has no center is that most anyplace can serve as a center to look out from.
The followers of this blog will recognize that to a large extent, representing such multiple viewpoints and examining biology and aging from different ones of them is what we have been attempting to do all along in this blog. Of course, we still have an incredibly long way to go. An important aspect of this multiple viewpoint approach is coming back again and again to the same topic, looking at it from different viewpoints to gain additional insights. For example take histone acetylation/de-acetylation. We have looked at these to a greater or lesser extent from the viewpoints of cancer, aging, multiple specific genes, sirtuins, chromatin structure, DNA Methylation, plant polyphenols, stem cell differentiation, metabolic processes, mitochondrial communications, biological stresses, and dementias. We believe that each time we cross such a subject again from a different perspective we can usually gain a little more insight, and that is our objective.
Telomere biology is a very familiar topic in the earlier history of this blog (2009-2012), and previously we have covered it from many viewpoints in over a dozen blog entries, often addressing central questions such as "Are telomere lengths the central clocks measuring aging?" No; "Do short telomere lengths drive cell senescence, or is it the other way around? Yes and Yes; "Is telomere shortening a fundamental upstream driver of aging?" No; "Can I extend my health and effective lifespans by taking a substance that purportedly extends my telomeres?" Probably not; If I extend my telomeres will I probably live longer?" Yes, but probably by other molecular alterations you make upstream of telomere lengthening not because of the longer telomeres themselves. "Are there practical interventions that can keep my telomeres long? Yes, many.
However, many questions remained open and telomere biology continues to represent an important point of view for examining aging. In that spirit, This three-part blog entry series offers The View from the Telomere end of the Chromsome. A lot of the material here is new and wanders into adjacent areas of histone biology. DNA adjacent to telomeres, telomere-mitochondria signaling, gene activation factors and cofactors and roles of key genes like P53. This is Part 1 of 3 in the series . Because of the length of the extended telomere story, we subdivided the discussion into three parts. this Part 1 relates to a number of more-practical and less-technical topics: the history of telomere biology, telomere length testing, telomerase Inhibitors for cancer, and supplements that activate telomerase and their possible roles for inhibiting or preventing cancers. Part 2 deals in finer detail with new discoveries related to the molecular biology of telomeres, Sections 1-9. Part 3 relates to additional newer discoveries, Sections 10-17. It also includes a concluding discussion of some of the implications for a Grand Unified Theory of biology of Aging and Biology, as viewed from the ends of a chromosome. And Jim tells me he is now drafting another blog entry which offers The View from the Centromere middle of the Chromsome.
Introduction and History of Telomere Biology – The Tale of Chromosome Tails
Chromosomes have "tails" called telomeres. The tails have "caps" called "Shelterin proteins". The discovery of these tails, the caps, and how the tails shorten is a fascinating story that I have titled "The Tale of Chromosome Tails". It is an exciting story that started out with erroneous conclusions, but ended with an explanation of important triggers of aging and cancer. Most recently, this same "tale" has been linked to the reason why mitochondria don't work in aging and cancer, to the DNA damage response, to the P53 gene, and to other important matters. . To properly tell this "tale", I start the story as a "once upon a time, 102 years ago, when people thought that cells were immortal". I will start here with Alexis Carrel, a surgeon from New Orleans.
The Origin and Death of the Concept of Somatic Cell Immortality
In 1912, Alexis Carrel published the now infamous paper titled "On the permanent life of tissues outside the organism". In this paper, he described how he was able to keep chick heart cells alive indefinitely, provided that the culture medium was frequently changed with fresh nutrients (Witkowski, 1980). What Alexis Carrel did not know was that the chick embryo extract which he was using as nutrition for the chick heart cells actually had chick cells in the embryo extract. This oversight let to the erroneous dogma that cells were immortal. For this reason, it was a shock to the scientific community when Leonard Hayflick cultured human diploid fibroblasts and noted that they consistently stopped dividing after 40-60 cell divisions (Hayflick and Moorhead, 1961). This gave rise to the term Hayflick limit (Shay, 2000), which referred to the maximal number of times cells could divide. Not all cells stop dividing after 40-60 divisions, however. In 2009, Elizabeth Blackburn, Carol Greider, and Jack Szostak were awarded the Nobel Prize in Physiology or Medicine for discovering the enzyme telomerase, which allows cells to divide much more than 40-60 times. (Press Release, 2009). For instance, testicular spermatogonia robustly express telomerase which allows them to continuously divide throughout life. By age 50, males produce sperm that have undergone approximately 840 cell divisions (Goriely, 2013). Cancer cells also express telomerase in 85% of cases, which explains their immortality. In the remaining 15%, an alternative method for telomere lengthening is activated (called the ALT pathway). However, in cells not expressing either telomerase or ALT pathway genes, telomere shortening was thought to be an "aging clock" that could measure physiologic age and predict death or disease.
About telomere lengths
The Life and Death of the Telomere Clock Theory of Aging
Unfortunately, the "telomere clock" did not keep time very well….it often ran too fast or could run in reverse with intervention or without intervention) (Hovatta, 2012). Part of this could be explained in terms of telomerase activation consequential to lifestyle modifications such as exercise, diet, or meditation. (Ornish, 2008) (Hoge, 2013). On an experimental level, major flaws in the "telomere clock theory" were found. A major one was the discovery that mice had long telomeres (50-150 kb) relative to human telomeres (15 kb), yet humans live as much as 50 times longer than mice (2 years vs 90-100 years) (Greider, 1996). If the "telomere clock theory" was correct, mice should outlive humans. The second flaw in the "telomere clock concept" was the discovery that mice expressed the enzyme telomerase, which should lengthen lifespan in mice to more than humans (Prowse, 1995). Instead, telomerase activation in mice appeared to contribute to their short lifespan since this increased the tendency of mice to form tumors (Due in part to the expression of telomerase, 90% of mice develop tumors during their lifespan). This lead to the theory that telomere shortening actually functioned as a tumor-suppressor mechanism which promoted organismal survival, but at the expense of getting old (Campisi, 2001).
The 3rd major flaw in the "telomere clock concept" was the discovery that telomere shortening occurred with other cellular phenomena besides mitosis (i.e. cell division). For instance, radiation was found to shorten telomeres (Fritz, 2000). In addition, it was found that radiation could induce cell cycle arrest even if telomeres did not shorten (Suzuki, 2001). Ultraviolet light was found to shorten telomeres, with or without cell division (Oikawa, 2001). The same was found with chemotherapy and toxins (Engelhardt,1998) (Muller, 2006). The 4th major flow in the "telomere clock concept" occurred when it was discovered that oxidative stress accelerated telomere shortening and that telomere shortening could occur even in cells that were not dividing (Zglinicki, 2002). Since oxidative stress is a universal feature of aging, this meant that telomere shortening was an "effect" of aging, rather than the "upstream cause" of aging. As a result of these 4 major flaws in the telomere clock theory, as well as the incongruous evidence from the telomere lengths in mice and men, the theory that telomeres are accurate measures of biological age has largely been put to rest. You can see the 2010 blog entries Telomere lengths, Part 3: Selected current research on telomere-related signaling, telomere lengths, cancers and disease processes, Part2: lifestyle, dietary, and other factors associated with telomere shortening and lengthening, and Part1: telomere lengths, cancers and disease processes.
Today, telomere length is merely considered to be a good biomarker of oxidative stress and should be measured at two time points (before and after) in a prospective clinical trial to really make meaningful conclusions. Measuring telomere length in at a single point in time and extrapolating "biological age" from this one measurement is suspect and subject to fundamental statistical errors based on standard deviations from the mean.
Telomere Length Testing and How to Avoid the Pitfalls of "Reverse Extrapolation"
Measuring peripheral blood mononuclear cell telomere length has become a standardized, validated way of measuring oxidative stress. However, this is an "empiric science" and has many potential pitfalls. The following graph shows how telomere lengths normally decline with aging but that standard deviations from the norm exist (1% vs 99%).
viewtelomeres1
As you can see from the graph above, the standard deviation bars for telomere length for a given age can tempt a clinician to make a statistical error called "reverse extrapolation". Here an individual with longer telomeres may fall within the normal standard deviations for his age, but in many telomere length test marketing brochures, a telomere test result is extrapolated back to the 50% mean for age. This results in a nice report for the paying customer, who gets a report like the one below:
viewtelomeres2
In the advertisement above, no standard deviation error bars are depicted (unlike the first graph show above). As a result, the customer is told that "they are 29 years old based on their telomere length". (in reality, the customer's telomeres may be within one standard deviation from the mean for a 45 year-old, but the report will state that his "biological age" is 29). In this case, telomere length testing can be mis-used to make people "feel younger". Here is another graph that hides the age-related scatter in lengths.
viewtelomeres3
Measured telomere length is a very poor predictor of biological age. In a scientific study, there is an easy way to eliminate this problem – always compare the subjects telomere length tests to his own baseline. This is why any study should measure telomere length before and after the study is completed and compare an individual's telomere length with their own telomere length prior to the intervention or treatment.
Telomere Length and the Risk of Cardiovascular disease, Infectious Disease, and Cancer
Unfortunately telomeres in general gradually shorten with aging, with a mean telomere length decline of 9% per decade (Brouilette, Lancet, 2007). This telomere shortening phenomena is highly reproducible and was originally thought to occur at a constant rate, due to cell division, and could thereby serve as an "aging clock". (Vaziri, 1994). Hundreds of studies were done showing excellent correlation between peripheral blood leukocyte telomere length and objective physical measurements of health, such as pulse pressure (Jeancois, 2000), pulse wave velocity (Benetos, 2001), etc. As more and more studies were completed, however, it was clear that telomeres did not shorten at a constant rate. Instead, the rate of telomere shortening varied with disease. For instance, patients with shorter leukocyte telomeres had a 3-fold higher mortality rate from heart disease and a 8.5-fold higher mortality rate from infectious diseases (Cawthorne, Lancet, 2003).
Another study showed that younger individuals with shorter telomeres had a 2.8-3.2 fold higher risk of premature myocardial infaction (Brouilette, 2003). Other studies showed the same cardiovascular risk effect in older individuals (Starr, 2007). Finally, a study showed that peripheral blood leukocyte telomere length was shown to have predictive value as a test for advanced cardiovascular disease (Willeit, 2010). More recently, telomere length was shown to be an independent risk factor for cancer (Willeit, 2010). In a 10-year Italian study, those with the longest telomeres had the lowest risk of cancer (5.1 cases per 1,000 person-years) and those with the shortest telomeres had the highest risk of cancer (22.5 cases pre 1,000 person-years). In Poland, a study was done which showed that short peripheral blood leukocyte telomeres doubled the risk of gastic cancer (Hou, 2009). In summary, there is a clear link between short telomeres and disease risk. The question is what is the mechanism for this link? The answer is cellular senescence.
Telomerase Inhibitors for Cancer and Supplements that Activate Telomerase
Since 85% of cancers constitutively express telomerase, several institutions started developing telomerase inhibitor drugs for treating cancer. (Mergny,1999) (Norton,1996). Unfortunately, the telomerase inhibitor drugs failed in clinical trials for brain cancer and breast cancer (Geron, 2012). However, this same drug appears to be working for myelofibrosis, a rare type of bone marrow myeloproliferative disease. (Carrol, 2013). For aging, several supplement manufacturers have created supplements made of natural products such as the Chinese herb, astralagus (TA-65, Product B, etc.). Although these supplements have been shown to lengthen telomeres in mice, where the enzyme telomerase is expressed (de Jesus, 2013), they have failed to lengthen telomeres in human peripheral blood mononuclear cells (Harley, 2011). On the other hand, lifestyle modification with exercise, diet, and mediation have been proven to lengthen telomeres in humans. (Ornish, 2008) (Hoge, 2013) (Lin, 2012). Folic acid, Fish oil, Vitamin C, D, and E have been associated with longer telomeres, when measured at time points in large population studies, but no prospective, randomized clinical trial has been done to show that multivitamin supplementation will actually lengthen human telomeres. (Paul,2009) (Xu, 2009), (Farazaneh-Far, 2010) (Paul, 2010). Zinc has also been shown to activate telomerase in cancer cells in vitro, but no human clinical trials have shown that Zinc supplementation will lengthen telomeres (Nemoto, 2000).
This raises the question about whether folate, fish oil, Vitamins C, D, E, and Zinc are harmful, if a person has cancer and is being treated for cancer. There is evidence that in the setting of chemotherapy for cancer, exogenous anti-oxidants actually decrease the efficacy of cancer chemotherapy. The mechanism of telomerase activation could possibly explain part of this phenomena. (The phenomenon is also explainable by the impacts of such substances on reduction of chemotherapy-induced ROS which induces apoptosis in cancer cells.) In summary, activating telomerease is probably good for non-cancer cells but possibly harmful if one has cancer. On the other hand, telomerase inhibitor drugs failed to treat brain and breast cancer.
Many natural products known to have health benefits and anti-cancer properties. For this reason, several of these natural polyphenols with chemopreventative effects have been tested for their effects on the enzyme telomerase. To date, most of these have been shown to have inhibitory effects on telomerase, such as ECGC, hydroxytyrosol, resveratrol, curcumin, cinnamic acid, Bosweillic acid, (Yokoyama, 2004), (Naasani, 2003), (Rafehi,2012), (Fuggetta, 2006), (Cui, 2006) (Chakraborty, 2006), (Mishra, 2008), (Zang Ting,2001), (Zhenhua, 2000), (Khan, 2011). The mechanism by which curcumin inhibits telomere lengthening appears to be due to the prevention of the nuclear localization of telomerase (Lee, 2010). In summary, several plant polyphenols appear to inhibit the enzyme telomerase. This may be a major reason why they are unique and different than multivitamins in their anti-cancer value. The following diagram from Ligi Paul's article does not adequately distinguish this effect of polyphenols on telomerase inhibition. However, it also shows how polyphenols can reduce oxidative stress and inflammation, thereby reducing the shortening of telomeres due to these factors which are independent from telomerase expression.
viewtelomeres5
Image source "Potential mechanisms behind the influence of nutrients on telomere length. Nutrients influence telomere length by various mechanisms that reflect their role in cellular functions. Dashed line indicates effect of deficiency of a nutrient."
Shift of focus to cellular senescence
As a result of all these discoveries, the focus has shifted from the concept of telomere shortening to the concept of cellular senescence. Specifically, cellular senescence means "cell cycle arrest" and can be the consequence of telomere shortening. But since cellular senescence can be induced WITHOUT telomere shortening, telomeres no longer are viewed as the focal point for interventions and instead, are now considered to be a GOOD BIOMARKER for oxidative and other stress, rather than a true "biological clock." Studies showed that even psychological stress could shorten telomeres. Both perceived stress and true chronic stress could prematurely shorten telomeres (Epel, 2004). "Women with the highest levels of perceived stress have telomeres shorter on average by the equivalent of at least one decade of additional aging compared to low stress women."
Partial picture of the telomere-aging-cancer elephant
A partial picture of the "telomere aging elephant" is given in the following graph. Here is the sequence of events.
Image and legend source "Telomere length is central to the process of aging and tumorigenesis in human cells. As result of the "end of replication problem", telomeres shorten after each cell division. When telomeres reach a critical length, the recruitment of telomere binding proteins and telomere capping are insufficient. Uncapped chromosome end resembles a double stranded DNA break that is highly unstable and can give rise to chromosome rearrangements. Since telomere erosion limits the proliferative capacity of cells, premalignant transformed clones cease to expend when their telomeres shorten. Critically shortened telomeres elicit a potent DNA damage response and accumulate several DNA damage markers such as phosphorylated gH2AX, 53 BP1, CHK2 for instance (d'Adda di Fagagna et al., 2003; Takai et al., 2003). Many of these proteins localize directly to dysfunctional telomeres to form dysfunctional telomere-induced foci (TIFs). However, entry into senescence or apoptosis can be bypassed by dysfunctional cell cycle controls and lead to the accumulation of chromosomal rearrangement and a global instability of the genome. Telomeres are tightly linked to tumorigenesis and the reactivation of telomerase circumvents telomere shortening and enhances the proliferative capacity of a subset of cells."
The image and explanation are over-simplified and do not convey that many causes besides cell replication can lead to telomere shortening, particularly stresses of various kinds, that telomere lengths can actually be lengthened, and the obvious points that genomic instability. cancer and cell deaths can lead to shorter lives (although apoptosis can be a good thing for longevity).
Summary of the Tale of Chromosome Tails
Today telomere shortening is considered a reversible event. In humans, telomeres generally shorten by 9% per decade, but this rate can be increased by oxidative stress, psychological stress, radiation, UV, genotoxic drugs, oncogenic stress, and many other factors. The beneficial effects of telomere shortening appears to be related to its tumor suppressor function. The harmful effects of telomere shortening is cell cycle arrest, which is called cellular senescence. Cellular senescence can occur even without telomere shortening, however, and appears to be reversible in some instances prior to the formation of senescence-associated heterochromatin formation (SAHF) in the nucleus of the cell. Today telomere length measurements are considered useful biomarkers of oxidative stress, rather than a "mitotic clock" for measuring biological age or life span. Lifestyle modification can increase telomere length by as much as 10%, but this does not reverse the physiological appearance (phenotype) of aging.
Stand by for Part 2 – Telomere Molecular Biology
COMMENT:
I am a physician with a keen interest in the molecular biology of aging. I have specific interests in the theories of antagonistic pleiotropy and hormesis as frameworks to understand cellular senescence and mechanisms for coping with cellular stress. The hormetic "stressors" that I am interested in exploiting at low doses include exercise, hypoxia, intermittent caloric restriction, radiation, etc. I also have a very strong interest in the epigenetic theory of aging and pharmacologic/dietary maintenance of histone acetylation and DNA methylation with age. I also am working on pharmacologic methods to destroy senescent cells and to reactivate quiescent endogenous stem cells. In cases where there is a "stem cell exhaustion" in the specific niche, I am very interested in stem cell therapy (Ex: OA)
View all posts by James Watson ?
---
Researchers here find a disconnect between DNA methylation patterns shown to correlate well with age and processes associated with longer telomere length. Telomeres are caps of repeated DNA at the ends of chromosomes that shorten with each cell division, a part of the mechanism limiting the life span of somatic cells. Their average length tends to shorten with age when considered across large populations in a statistical analysis, but this is a tenuous relationship that has also failed to appear in some smaller studies. Here, it seems that older ages as assessed by DNA methylation can correlate with differences in telomerase, the enzyme responsible for lengthening telomeres, that are associated with longer telomeres.
In any given individual, average telomere length as currently measured in leukocytes from a blood sample is dynamic in response to circumstances; it reflects pace of cell division and the rate at which new cells with long telomeres are generated by stem cells. Unfortunately the large degree of individual and circumstantial variation means that there is little to be meaningfully said about the present value – the information is not actionable in all but rare cases of exceptionally short average length due to disease. The epigenetic clocks derived from DNA methylation measurements are much more solid, repeatable, useful metrics, judging from the evidence to date.
In that broader context, it is interesting to find signs that these two approaches to measuring an aspect of aging are not on the same page, though I think the researchers here overstate the significance of their work and/or engage with a strawman to some degree in their comments. What they have found does fit in with the evidence to date supporting the idea that telomere length is only very loosely associated with aging, with considerable variation between individuals. That is somewhat distinct from the question of whether or not telomerase gene therapies are a useful approach to the treatment of aging or other conditions.
---
Epigenetics – DNA methylation

https://www.whatisepigenetics.com/dna-methylation/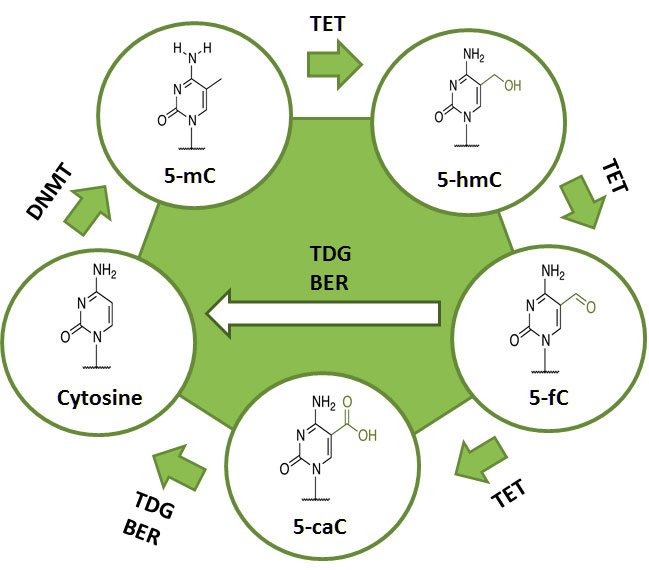 Depiction of cytosine's methylation and demethylation processes. The different modified forms of cytosine along with the corresponding enzymes responsible for each modification are shown.
DNA methylation is an epigenetic mechanism that occurs by the addition of a methyl (CH3) group to DNA, thereby often modifying the function of the genes and affecting gene expression. The most widely characterized DNA methylation process is the covalent addition of the methyl group at the 5-carbon of the cytosine ring resulting in 5-methylcytosine (5-mC), also informally known as the "fifth base" of DNA. These methyl groups project into the major groove of DNA and inhibit transcription.
In human DNA, 5-methylcytosine is found in approximately 1.5% of genomic DNA.1 In somatic cells, 5-mC occurs almost exclusively in the context of paired symmetrical methylation of a CpG site, in which a cytosine nucleotide is located next to a guanidine nucleotide. An exception to this is seen in embryonic stem (ES) cells, where a substantial amount of 5-mC is also observed in non-CpG contexts. In the bulk of genomic DNA, most CpG sites are heavily methylated while CpG islands (sites of CpG clusters) in germ-line tissues and located near promoters of normal somatic cells, remain unmethylated, thus allowing gene expression to occur. When a CpG island in the promoter region of a gene is methylated, expression of the gene is repressed (it is turned off).
The addition of methyl groups is controlled at several different levels in cells and is carried out by a family of enzymes called DNA methyltransferases (DNMTs). Three DNMTs (DNMT1, DNMT3a and DNMT3b) are required for establishment and maintenance of DNA methylation patterns. Two additional enzymes (DNMT2 and DNMT3L) may also have more specialized but related functions. DNMT1 appears to be responsible for the maintenance of established patterns of DNA methylation, while DNMT3a and 3b seem to mediate establishment of new or de novo DNA methylation patterns. Diseased cells such as cancer cells may be different in that DNMT1 alone is not responsible for maintaining normal gene hypermethylation (an increase in global DNA methylation) and both DNMTs 1 and 3b may cooperate for this function.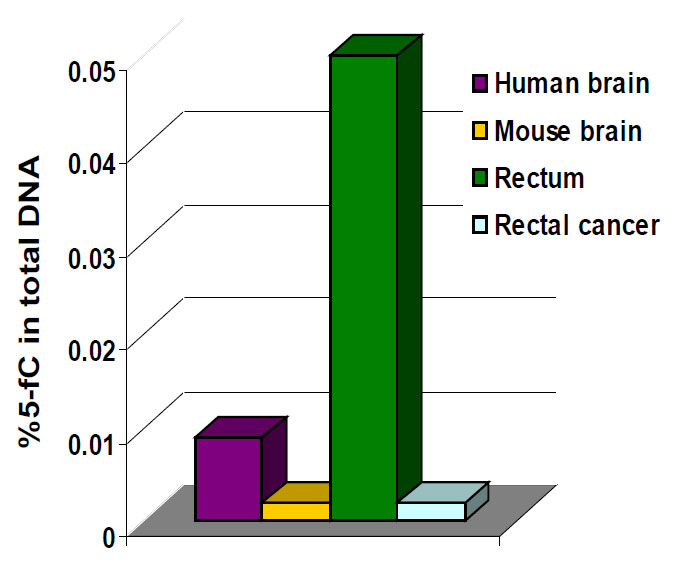 DNA demethylation is the removal of a methyl group from DNA. This mechanism is equally as important and coupled with DNA methylation. The demethylation process is necessary for epigenetic reprogramming of genes and is also directly involved in many important disease mechanisms such as tumor progression. Demethylation of DNA can either be passive or active, or a combination of both. Passive DNA demethylation usually takes place on newly synthesized DNA strands via DNMT1 during replication rounds. Active DNA demethylation mainly occurs by the removal of 5-methylcytosine via the sequential modification of cytosine bases that have been converted by TET enzyme-mediated oxidation. The ten-eleven translocation (TET) family of 5-mC hydroxylases includes TET1, TET2 and TET3. These proteins may promote DNA demethylation by binding to CpG rich regions to prevent unwanted DNA methyltransferase activity, and by converting 5-mC to 5-hmC, 5-hmC to 5-fC (5-formylcytosine), and 5-fC to 5-caC (5-carboxylcytosine) through hydroxylase activity. The TET proteins have been shown to function in transcriptional activation and repression (TET1), tumor suppression (TET2), and DNA methylation reprogramming processes (TET3).
The biological importance of 5-mC as a major epigenetic modification in phenotype and gene expression has been widely recognized. For example DNA hypomethylation, the decrease in global DNA methylation, is likely caused by methyl-deficiency due to a variety of environmental influences and has been proposed as a molecular marker in multiple biological processes such as cancer. The quantification of 5-mC content or global methylation in diseased or environmentally impacted cells could provide useful information for detection and analysis of disease. Furthermore, the detection of the DNA demethylation intermediate 5-fC in various tissues and cells may also be used as a marker to indicate active DNA demethylation. 5-fC can also be directly excised by thymine DNA glycosylase (TDG) to allow subsequent base excision repair (BER) processing which converts modified cytosine back to its unmodified state.
Differentially methylated regions (DMRs) are areas of DNA that have significantly different methylation status between multiple samples. Researchers will often perform genome-wide methylation profiling to identify DMRs between treated or untreated samples, revealing functional regions that may be involved in gene transcriptional regulation. There can be DMRs specific to tissues, cells, individuals, and so on. Differentially methylated regions may also be used as biomarkers or potential targets of epigenetic therapy.
There are several methods and techniques available for DNA methylation analysis other than using mass spectrometry or HPLC, including: Enzyme Linked Immunosorbent Assay (ELISA). A 5-methylcytosine antibody can also be deployed in an ELISA-based technique to detect global DNA methylation in DNA samples. Wells in a microplate are treated to have high DNA affinity and the methylated fractions of the input DNA are detected using capture and detection antibodies, followed by an absorbance reading with a spectrophotometer.
Getting Started the Easy Way Once you've isolated your DNA from your sample of interest, use the simple MethylFlash Methylated DNA Quantification Kit to detect the amounts of DNA methylation contained in the samples.
Bisulfite Conversion DNA bisulfite conversion is a unique tool used to discriminate between unmethylated and methylated cytosine for DNA methylation studies. Only bisulfite modification of DNA followed by PCR amplification, cloning, and sequencing of individual amplimers, yields reliable information on the methylation states of individual cytosines on individual DNA molecules. The bisulfite modification technique uses bisulfite salt to deaminate cytosine residues on single-stranded DNA, converting them to uracil while leaving 5-methylcytosine intact. Bisulfite Conversion To effectively and efficiently prepare converted DNA for use in various downstream analyses, an ideal DNA bisulfite modification method should be: (1) highly accurate to allow for the complete conversion of cytosine to uracil (correct conversion without deamination of methylcytosine to thymine; and (2) rapid enough to enable the bisulfite process to be as short as possible, since DNA methylation analysis is in high demand for basic research and particularly for clinical applications.
Getting Started the Easy Way Isolate your DNA from your sample of interest, then treat your DNA samples with sodium bisulfite using a fast BisulFlash DNA Modification Kit, followed by PCR; or an easy Methylamp DNA Modification Kit, followed by sequencing.
Methylated DNA Immunoprecipitation Highly specific isolation and enrichment of methylated DNA provides an advantage for the convenient and comprehensive identification of methylation status of normal and diseased cells, such as cancer cells. The methylated DNA immunoprecipitation procedure uses an antibody specific to methylcytosine in order to capture methylated genomic DNA. An ideal MeDIP assay should have high sensitivity and specificity, minimal background, and fast high-throughput capability. The enriched and captured DNA can be used for several diagnostic downstream procedures including MeDIP PCR, MeDIP-chip, and MeDIP sequencing and next generation sequencing for genome-wide methylation analysis.
Getting Started the Easy Way For gene-specific detection of DNA methylation on a genome-wide scale, isolate your DNA from your sample of interest, then use the EpiQuik MeDIP Ultra Kit or a 5-methylcytosine antibody to enrich and capture methylated DNA fragments, followed by sequencing or PCR.
5-hydroxymethylcytosine
Percentage of 5-hydroxymethylcytosine in different tissues, measured with a MethylFlash Hydroxymethylated DNA Quantification Kit.
Percentage of 5-hydroxymethylcytosine in different tissues, measured with a MethylFlash Hydroxymethylated DNA Quantification Kit.
5-hydroxymethylcytosine (5-hmC) is a hydroxylated and methylated form of cytosine. Until the recent discovery of 5-hmC, it was believed that 5-mC was the only DNA base modification. 5-hmC can be generated by the oxidation of 5-mC, a reaction mediated by the TET family of enzymes and DNMT proteins. Early reports suggested the presence of 5-hydroxymethylcytosine in the DNA of bacteriophages and mammalian tissues but these reports could not be confirmed in subsequent studies. 1 It was not until recently (about 2009) that the presence of 5-hmC in mammalian brain cells and mouse embryonic stem (ES) cells was unambiguously proven.2345 These levels were first observed by epigenetics company EpiGentek to vary between different human cell types and tissues and to be significantly decreased in cancer tissues.6
Getting Started the Easy Way Measure total amounts of 5-hydroxymethylcytosine in your DNA sample using the ELISA-based MethylFlash Hydroxymethylated DNA Quantification Kit.
The broader functions of 5-hmC in epigenetics are still unclear today. However, a line of evidence does show that 5-hmC is predominately located within gene promoter regions and is associated with transcriptionally activated genes and plays a role in DNA demethylation, chromatin remodeling, and brain-specific gene regulation. Because of the presence of 5-hmC in DNA with unclear functions in gene regulation and the discovery of the enzymes that produce 5-hmC, it is considered rather important to know the distribution of this base in different cell types and in different compartments of the genome of mammals. Furthermore, it would be particularly important to identify the hydroxymethylation status in human cell/tissues with and without disease if 5-hmC can be proven to have a link between the DNA demethylation process and cancer.
---
Epigenetics – acetylation
Histones are the proteins closely associated with DNA molecules. They are responsible for the structure of chromatin and play important roles in the regulation of gene expression. Five types of histones have been identified: H1 (or H5), H2A, H2B, H3 and H4. H1 and its homologous protein H5 are involved in higher-order structures of chromatin. The other four types of histones associate with DNA to form nucleosomes. H1 (or H5) has about 220 residues. Other types of histones are smaller, each consisting of 100-150 residues.
An important feature about histones is that they contain a few lysine (K) residues at the N terminus. Under normal cellular conditions, the R group of lysine is positively charged, which can interact with the negatively charged phosphates in DNA. The positive R group of lysine may be neutralized by acetylation, reducing the binding force between histones and DNA. Such mechanism has been demonstrated to play a major role in the regulation of gene transcription (Chapter 4 Section G).
Histone Acetylation
Acetylation of the lysine residues at the N terminus of histone proteins removes positive charges, thereby reducing the affinity between histones and DNA. This makes RNA polymerase and transcription factors easier to access the promoter region. Therefore, in most cases, histone acetylation enhances transcription while histone deacetylation represses transcription.
Histone acetylation is catalyzed by histone acetyltransferases (HATs) and histone deacetylation is catalyzed by histone deacetylases (denoted by HDs or HDACs). Several different forms of HATs and HDs have been identified. Among them, CBP/p300 is probably the most important, since it can interact with numerous transcription regulators.
Living To 150
What is Methylation?
Methylation is a process which occurs in every one of our cells. It involves a chemical methyl group (CH3) being passed around a series of molecules in a cycle.
Methylation enables the body to:
Detoxify toxins within the cell
Repair damaged DNA
Create new cells
What Problems Does Defective Methylation Cause?
If the cycle of methylation is not working well a dangerous substance called homocysteine accumulates in the blood. High homocysteine levels cause serious damage to the cells and the DNA. This leads to premature aging – and premature death.
High homocysteine is closely involved in:
Heart and artery disease
Diabetes
Alzheimer's disease
Various types of cancer
Depression
Parkinson's disease
Low thyroid function
IBS (inflammatory bowel syndrome)
ME (Myalgic encephalitis)
and other serious degenerative diseases.
For example a raised homocysteine level can easily double or even quadruple the chances of atherosclerosis and other artery problems, leading to serious illness or death.
What Causes Poor Methylation?
Poor methylation is due either to an insufficient supply of methyl groups necessary to the process; or a deficiency of the nutrients which facilitate the process. The main nutrients required are; vitamin B12, folic acid, and zinc.
The Heart And Arteries And Homocysteine
It is well known that cholesterol can contribute to heart and artery disease. What is not generally known, is that before cholesterol can accumulate in the arteries damage must already be present. This arterial damage can be caused by a high level of homocysteine in the blood.
In fact, the level of blood homocysteine is a much more accurate indicator of heart and artery disease than cholesterol is. Once this sinks in with the medical establishment measurement of homocysteine will supplement routine measurement of cholesterol.
How Can I Lower Homocysteine?
To improve methylation and thus reduce homocysteine there are two approaches. A combination may be needed. The two approaches are:
To increase the elements in the blood, which supply the necessary methyl groups – primarily TMG (trimethylglycine) and SAM-e (S-adenosyl-methionine), and:
To make sure the nutrients, which enable methylation to take place all present in sufficient quantities – these are primarily vitamin B12, folic acid and zinc.
The amount of these nutrients to be taken is determined by a blood test indicating the level of homocysteine and an assessments of the deficiencies present. Professional help is an advantage, if it can be found.
What Level Should Homocysteine Be?
The target level of homocysteine in the blood is 6.3 µmol per liter of blood or less. If as high as 15 µmol per liter – and this level is not rare – the risk of coronary artery disease is quadrupled. A simple blood test will show the level of homocysteine present.
Your doctor will have heard of homocysteine, and can have it measured. However, he or she will probably not to know why you want to test it and not know the implications of a level above 6.3 µmol per liter. So be prepared to explain your concerns to the doctor and to take in some printed material to back yourself up.
Homocysteine – A Crucial Test
Measuring homocysteine is very important. If it is high it means you have a much higher chance of serious ill health than otherwise. This measure of the effectiveness of methylation in your body should be checked annually.
The 4 '-ations' – Vital Indicators of Health
The 4 '-ations' – methylation, oxidation, glycation and inflammation – are processes which damage and kill our cells. If we act to take control of these processes we will slow the path of aging and reduce greatly our chances of developing 21st century diseases – including cancer, heart and artery disease, Alzheimer's disease and diabetes.