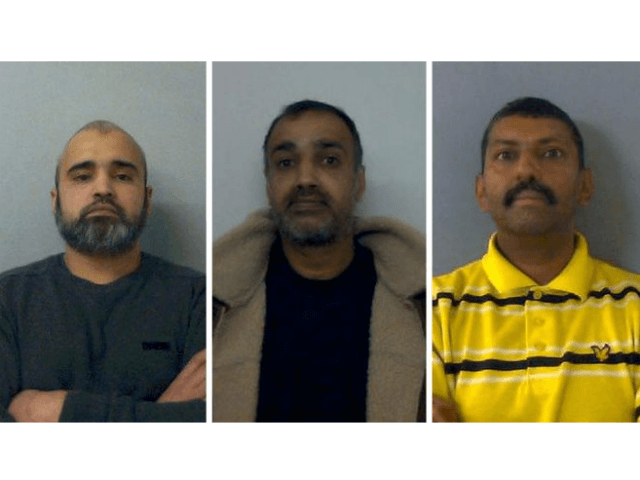 Picture: Oxford Mail
Three more members of Asian grooming and ausers have been sentenced for multiple rapes, indecent assaults, pimping and drug dealing offences in Oxford, the ~University city that has been the site of some of the worst examples of systematic grooming and abouse of young, often vulnerable, British girls by Muslim men of predominantly Pakistani and Bangladeshi ethnic backgrounds.
41-year-old Naim Khan ( 24/8/1978), 44-year-old Mohammed Nazir (20/3/1975), and 42-year-old Raheem Ahmed (22/2/1977) had all been convicted of the sex related crimes and held on remand awaiting sentencing, according to a Crown Prosecution Service (CPS) announcement. Their offences included:
Seven counts of rape (two counts were multiple incidents covering at least 12 occasions); four counts of indecent assault (two counts were multiple incidents covering at least 15 occasions); one count of procuring a man to rape the victim; two counts of procuring men to indecently assault the victim; one count of supplying class B drugs on at least 12 occasions (Victim 1)
one count of indecent assault (Victim 2)
Six counts of rape (four counts were multiple incidents covering at least 14 occasions); five counts of indecent assault (all counts were multiple incidents covering at least 27 occasions); one count of procuring a man to rape the victim; three counts of procuring men to indecently assault the victim (one count was a multiple incident covering at least three occasions); one count of supplying class B drugs on at least 10 occasions (Victim 1)
Two counts of indecent assault, and one count of supplying class B drugs on at least 10 occasions (Victim 1)
A fourth gang member, 42-year-old Afzal Mohammed of Randolph Street, Oxford, was acquitted of one count of rape.
The convicted trio have been "jailed for a total of 49 years", with Khan, Nazir, and Ahmed receiving terms of 24 years, 20 years, and five years — but this may be misleading. Criminals handed multiple sentences are generally told they will serve them concurrently — i.e. all at the same time, rendering all but the longest effectively meaningless. So in spite of the public outcry over previous cases in Oxford and elsewhere around the country, most notoriously in Rotherham and Rochdale, the authorities are still intent on giving the kid – glove treatment to criminals of migrant backgrounds.
They are also usually eligible for automatic early release on licence halfway through non-"life" terms, or else at the two-thirds point with Parole Board approval if handed special "extended" sentences.
While the CPS did not spell out the full details of the Oxford gang's sentencing immediately clear in their announcement, probably to avoid triggering the kind of outcry that has previously resulted from black and Asian rapists being given much lighter sentences than a European man convicted of multiple rapes of migrant women could expect to receive. A prime example of uch discriminatory treatment of convicted offenders was the case for Telford rape gang ringleader Mubarek Ali, who became eligible for release on licence — which he received — less than five years into a supposed 22-year sentence.
A particularly nasty aspect of the abuse carried out by the Oxford gangs was the sadistic nature of the abuse and the casual disregard for the humanity of their victims. In Britain and other civilised cultures we would not tolerate animals being treated so badly yet the far – left scumbags who control our politicised police forces and judiciary are dertermined that we be forced to accept it from foreigners who have been welcomed into our nations.
"The abuse to which [the victims] were subjected to by these men was horrendous and sadistic," said Principal Investigator Mark Glover in comments reported by the Oxford Mail.
"They have had to live with the actions of these predatory offenders for the majority of their livthey have all been impacted in different ways," he added.
"They will never be able to forget what happened to them all those years ago."
Senior prosecutor Clare Tucker said the "depraved" groomers had "told the teenagers [their abuse] was normal in relationships between men and women and threatened the victims if they resisted or complained."
One of the victims, who told the jury Naim Khan "began to pimp her out to other Asian males, made her sexually available to other men in return for payment", revealed the consequences of her abuse in an impact statement: "My life has been destroyed. I cannot form loving or lasting relationships with men. I have not been able to care for my children as a mother should be able to."
She says she did not report the abuse she suffered for some time, at first because of threats by the abusers, and then because she "felt disgusted by what those men did to me" when she was aged between 14 and 15 — "I just didn't want it to come out and for anyone to know."
Such cases have become an all to familar story in Britain since the story of the Rotherham case broke in 2012. The Abuse gangs had already been operating for years and worried parent and citizens who were aware of what whas happ[ening and tried to report it to police or social care authorities were dismissed as racilaly prejudiced cranks. It has since emerged that the order to soft pedal on investigations into the gangs came from the head of the Crown Prosecution Service, the Director of Public Prosecutions who at the was Kier Starmer, who is currently a contender for leadership of the Labour Party.